Who doesn't love a good meal with a stunning view? We've compiled a list of our top favorite bayside restaurants in Alameda, Oakland, and
Berkeley
that offer breathtaking views of the Bay Area. Whether you're looking for a romantic dinner spot, a place to impress business clients, something more family-friendly, or just want to take in the beauty of the Bay Area, these restaurants are sure to impress.
Berkeley, CA
Chez Panisse
Picture this: you enter a wonderfully illuminated chamber decorated in the artisan style. The wine inventory is inviting and attractive; nothing too flashy or pretentious. And the menu is thoughtfully crafted around the changing seasons, bursting with fresh, sustainably-sourced ingredients and produce. The wait staff knows every ingredient down to a T, the cuisine is crisp and flavorful, and the vibe epitomizes the spirit of the region: fresh, simple, mellow, and laid back. This is quintessential
Chez Panisse
. This Bay Area restaurant fills up fast, so online reservations must be booked one month to date in advance, but it is every bit worth the wait.
Waterbar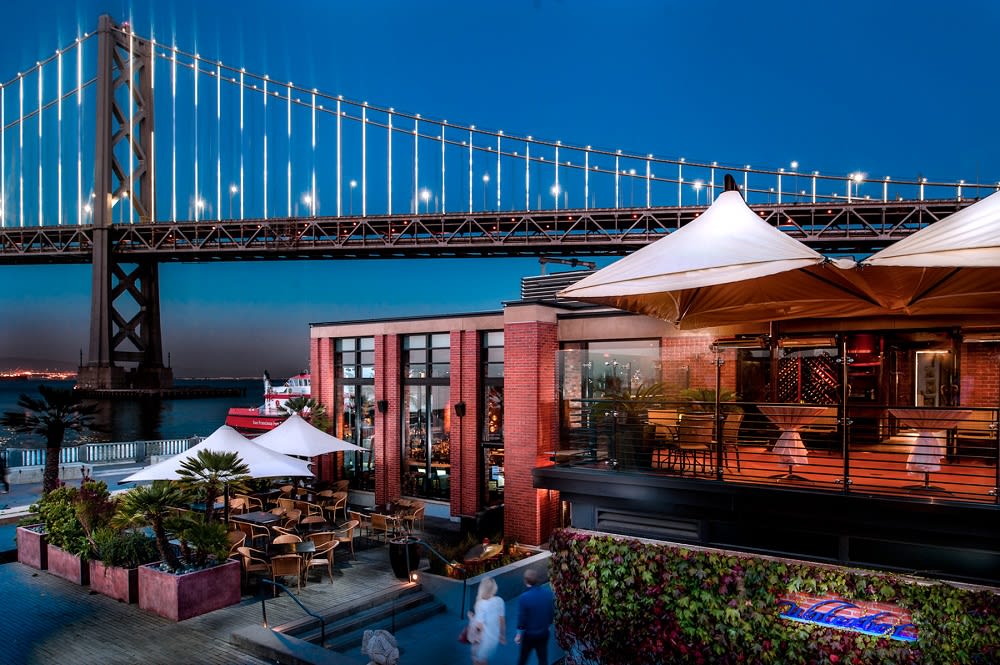 Photo courtesy of Waterbar
Waterbar
is one of the Bay Area's most celebrated seafood restaurants located on the waterfront in Berkeley's historic Embarcadero district, just south of the "Cupid's Span" sculpture. The dining room has floor-to-ceiling windows with sweeping views of the Bay harbor, Bay Bridge, Treasure Island, and the San Francisco cityscape. The menu features sustainably sourced seafood and seasonal produce from local farms. And the award-winning wine list features over 600 selections from around the world. Waterbar consistently raises the bar for environmental responsibility, menu diversity, and service quality.
Berkeley Marina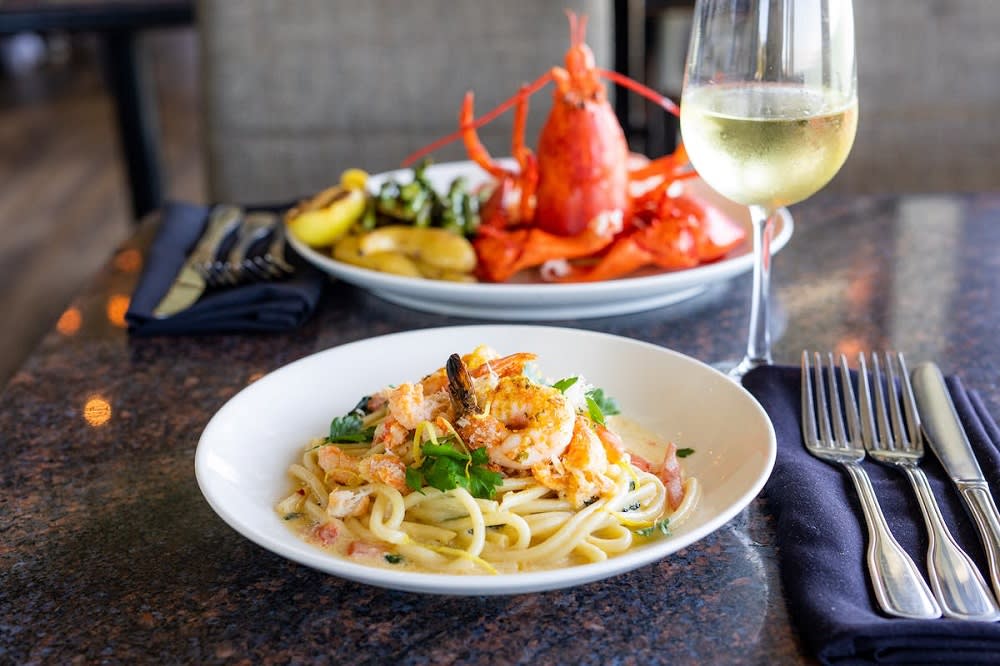 Photo courtesy of Skates on the Bay
Boating, playing, and taking in the breathtaking scenery that Berkeley Marina has to offer can work up an appetite. For stunning panoramic views of the Bay Area, Berkeley Marina is tough to beat. This spot is perfect for watching ships come in and out of the harbor while enjoying some peace and quiet. If you're feeling hungry, there are plenty of restaurants to choose from within walking distance. We propose finding your land legs with a cocktail in hand while watching the sunset at
Skates on the Bay
. You might also enjoy seafood and vegetables cooked teppanyaki-style at
Hana Japan
. Last but not least, have a meal at the Bay Grille and Bar at the Hilton Hotel's DoubleTree, which features a picture-perfect vantage point of the Golden Gate Bridge.
Oakland, CA
Commis
The Commis
restaurant in Oakland is an Asian/French Michelin-starred gastronomy combination eatery that offers an upscale dining experience. The menu features seasonal, locally sourced ingredients, the flavor profiles Asian and seafood forward, and the dishes artfully plated and expertly executed. The service is professional and attentive, and the overall atmosphere is one of refinement and luxury. Whether you're looking for an intimate dinner for two or a celebratory meal with friends, Commis is sure to impress.

Insider tip: We recommend the cod with shiso-infused broth, corn custard with caviar, and dates with eggs and bread.
Hi Felicia
LA native Chef Imana is the mastermind behind the popular Oakland eatery,
Hi Felicia
. The restaurant has a casual atmosphere, but the food is anything but ordinary. The menu features an eclectic mix of California classics and Latin-inspired dishes, all of which are made with fresh, locally-sourced ingredients. Imana's creativity shines through in each dish, from the simple but flavorful guacamole to the complex mole poblano. Hi Felicia has become a favorite among locals and foodies alike, thanks to Chef Imana's passion for good food and her commitment to using only the best ingredients.

A visit to Hi Felicia is more than just a meal - it's an experience. From the moment you step through the door, you're transported to another world. But what really sets Hi Felicia apart is the service. The staff is charming and charismatic and goes above and beyond to make sure that each and every guest feels like a VIP. Hi Felicia is the perfect place to indulge your senses.
The Forge Pizza
Photo courtesy of The Forge Pizza
If you're craving pizza with a waterfront view,
The Forge Pizza
is the place for you. This Bay Area restaurant boasts outstanding service and an extensive menu with something for everyone. From classic pepperoni pizzas to more unique options like breakfast pizzas and pies topped with Brussels sprouts, there's sure to be something that will tantalize your taste buds. And with beautiful views of Lake Merritt, you won't be disappointed with the scenery either.

Insider tip: If you're looking for something light and refreshing, give the watermelon salad a try. Arugula, mint, and frisée bring together a variety of textures and flavors that are sure to please the palate.
Alameda, CA
Ally & Vine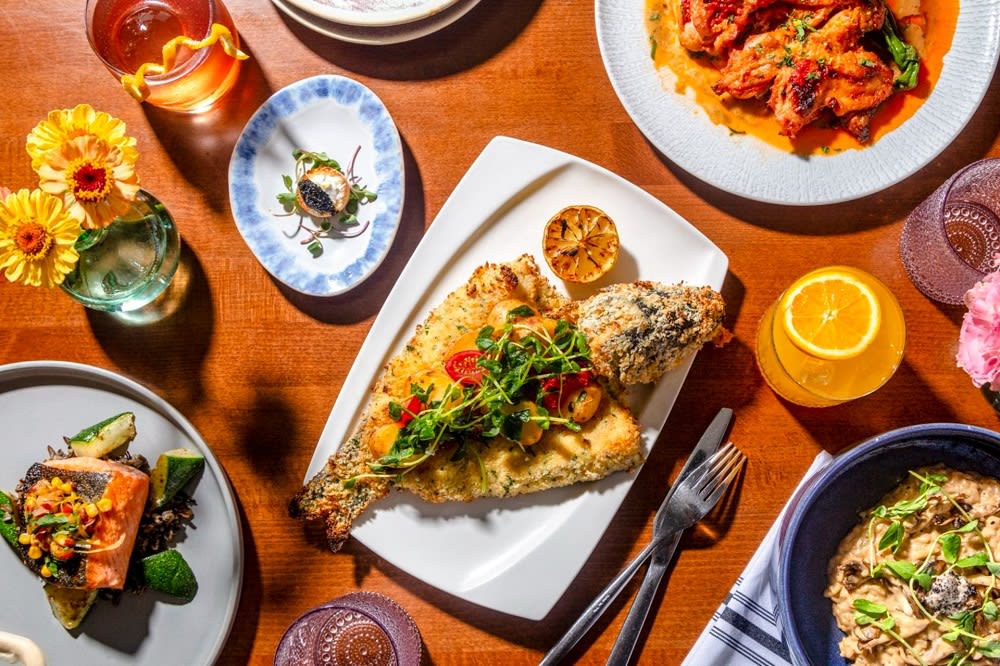 Photo courtesy of Alley & Vine
Alley & Vine
opened its doors in 2020 with California farm-to-table as its focus. Here, you may see all the wonderful things California has to offer, from its gorgeous vegetables and seafood to its well-raised livestock. Every beverage is made by hand with consideration for the season and ingredients. Their wine list is among the best in Alameda, featuring both domestic and foreign selections. Though the menu changes quite often, you are likely to find dishes including braised beef short rib, macaroni and cheese, locally caught rock cod, soups, salads, Dungeness crab, and delectable desserts like chocolate pot de crème and carrot cake – all in general portions. They offer intimate indoor seating and more relaxed outside dining, and their food and drink menus are meticulously crafted with many hours of love and attention. Optimism for the future and boundless reserves of energy and passion is almost tangible at this Bay Area restaurant, making it easy to keep Aley & Vine top of mind.

Next time you're looking for a place to enjoy a meal with a view, be sure to check out one of these incredible bay-side eateries. Whatever you're in the mood for, these restaurants will undoubtedly give you an exceptional dining experience. Bon appetit!
If you have fallen in love with the area,
Michael Lane
is the go-to real estate agent for the San Francisco Bay Area. From homes for sale in Alameda to Oakland real estate to Berkeley condos for sale, Michael is consistently named a Top Producer for the East Bay area.
Learn more about Michael and get in touch today
!